NOTE: This webinar has now ended, but we are still able to deliver it on a one-on-one basis to interested parties. If you are interested, please contact us for more details
---
As part of their digital transformation, businesses are looking to extract ever more insight from the data they collect, but often struggle delivering it in a timely and flexible manner.
Oracle Data Visualisation provides an agile, intuitive, self-service, tool that democratises data into the hands of business users without IT involvement.
As Oracle's premier partner specialising in both CX and BI, let us demonstrate how data visualisation will leverage value from your data and gain you competitive advantage.
Join our 30 minute webinar to experience Oracle Data Visualisation in action and witness how it can enhance your CX Cloud solution.
This session is aimed at Sales Managers and Directors, Application Managers using CX Cloud, & Business Analytics Users[/vc_column_text][/vc_column_inner]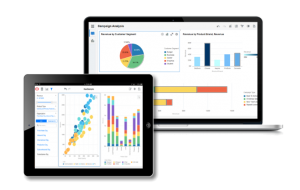 [/vc_row_inner]
The Power of Oracle Data Visualization
Powerful and Intuitive Data Discovery – with minimal training, users feel like data wizards, diving into your CX data to get the information they need and make the right decisions

Intuitive Data Mashups – Load in spreadsheets to "mash" it up with the data already in your CX solution and see how it compares

Fully Mobile and accessible – insights are available to all of your organisation, on any device. Drive collaboration from the boardroom to analysts and everyone in between.

Tell your Data Story – Craft a story that is supported by your data and visualizations then upload and share it with your colleagues

[/vc_column][/vc_row]