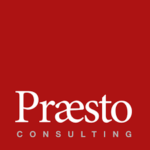 Join our league of extraordinary consultants
Our clients are what drives us, but our team is what makes us successful. We are committed to doing the right thing for them by adding value on a daily basis and ensuring we deliver timely cost-effective solutions. We work with some of the top performers in the Fortune 100 and have a varied and growing portfolio of clients.
With opportunities for travel and the chance to be part of an expanding business, there has never been a better time to consider a career with us.
"Praesto is more than a company, more than a workplace. We are a family that is constantly growing and working together"
Our team is very important to us, they make us who we are, and we believe that starting your career with us will provide you with the ideal platform to achieve your goals.
We recognize and reward the great work that our people do. We have strong values and a high-performance culture, working with industry leading experts and forging partnerships globally.
What does Praesto offer you?
The Job
You would be a professional consultant working directly with clients on very specific Statements of Work. You will be expected to represent the company and provide outstanding solutions to the client. Much of your work will be independent with the client although you will have a strong connected team at Praesto to support and guide you through the projects.
Excellent Salary and Benefits
With us you will get more than a competitive salary. You'll also be able to take advantage of a range of tailored benefits including healthcare and 401(k) matching.
Focus on Development 
Our graduates are expected to take on real responsibility and leverage their intelligence against actual business challenges. You will need to be agile and think on your feet but will be supported every step of the way by experts, working alongside you to provide mentoring and training on a 1 to 1 basis.
Like-Minded Team
We are a driven, vibrant, and passionate collective of established consultants and those just taking their first steps on the career ladder. As part of a close-knit, dedicated team you will be working alongside recognized industry leaders to help shape a fast-growing, high performing business.
Career Progression
We believe in creating a structured path for promotion and will work with you to achieve your ambitions. Whatever your focus, you will be in control of your own success and presented with a wealth of opportunities that will enable you to progress with us.
What do I need to Apply?
The Right Qualifications
Our graduates are hard-working and high achieving so a good degree in a science, computer science, mathematics or engineering subject is a must.
A Flair for Programming
The ability to use your programming and IT knowledge to solve real world challenges for a range of clients is imperative. You are comfortable with SQL and Python with a demonstrated ability to quickly learn new technical skills. Be comfortable figuring our system architecture requirements, to overall project design, to implementation and training. We specialize in three verticals – EPM (Enterprise Performance Management), BI (Business Intelligence) and CRM (Customer Relationship Management). Any exposure to Birst, Tableau, Salesforce, Microsoft Dynamics, Creatio, d/EPM, Oracle Siebel or Microsoft Power BI would be a tremendous asset.
Excellent Communication Skills
Graduates must be open-minded and confident in their own ability. We require articulate individuals that demonstrate a willingness to learn and develop professionally with every project.
Ambition
We require graduates that can see the bigger picture and can help us achieve our ambitions and realize our own potential, as well as our client's potential. We employ bright, self-starting, and enthusiastic individuals who can work well with senior leaders.
Cover Letter Application:
To help us prioritize candidates, please submit a PDF copy of your resume, and also answer the following six questions?
We have offices in Staines-upon-Thames. Do you currently reside within commuting distance of these offices? Would you relocate?
Do you require a work visa or some sponsorship, now, or in the future?
When do you graduate?
This job is very technical and requires a strong understanding of SQL, Python, ETL, data structures and business analytics. Please highlight your strongest technical skills.
In a few sentences, please tell us why you feel a consulting role at Praesto is the right place for you to begin you career?
Praesto is an equal opportunities employer and is committed to building an inclusive and diverse workforce.